1xBet, one of the world's leading bookmakers, has become the LOSC Official Regional Partner in Africa. The duration of the agreement is three years. According to the terms of the deal, the betting company will be LOSC Lille's regional partner in the Middle East, North and South Africa.
As part of the agreement, 1xBet receives the rights to use the logo of the French club and the collective image of its players in their promotional campaigns. Furthermore, 1xBet advertising can be seen on LED boards during the club's top matches in the French Championship, and the cooperation itself will be actively covered on social networks. 
"This is great news. We are very pleased to cooperate with such a legendary club, which has a huge fanbase, not only in France but worldwide. Most recently, in 2021, the club became the champions of France, which is not easy because we all know what level of opponents contest this tournament.
We want to offer Les Dogues fans the opportunity to get the most vivid emotions and a new online betting experience. For 1xBet, this deal is another important step in their global strategy to support football at all levels. We expect a lot from cooperation, and rest assured, this is not the last time that 1xBet brings good news this year," said Alex Sommers, a spokesman for the company.
It is worth noting that this is not the first agreement between 1xBet and a French top-level club in recent years. Previously, the company became the official partner of PSG.
1xBet is one of the world's leading betting companies operating directly and through its franchise partners in over 50 countries in Latin America, Europe, Africa and Asia.
About 1xBet
1xBet is a world-famous betting company with over 15 years of experience. Brand customers can bet on thousands of events in over 60 sports. In addition, the company's website and app are available in over 60 languages.
1xBet cooperates with well-known sports clubs and organisations: Barcelona, Italian Serie A, CAF and others. In addition, 1xBet's partner portfolio includes popular esports organisations such as Team Spirit, K23, Tundra Esports, OG Esports and MiBR. The bookmaker has repeatedly become a nominee and winner of prestigious awards, including IGA, SBC, G2E Asia, EGR Nordics Awards and others.
About LOSC Lille
LOSC Lille is one of the most successful clubs in France. The team has won the national championship 4 times and has had another 11 top three finishes. LOSC Lille has won 6 French Cups and won the 2021 French Super Cup. The club has participated in the play-offs of European cup competitions more than once. In the 2006-2007 and 2021-22 seasons, LOSC Lille reached the Round of 16 in the Champions League.
Stars such as Eden Hazard, Pierre-Emerick Aubameyang, Gervinho and Dimitri Payet have played for LOSC Lille in various capacities. And now, European champion Jose Fonte and one of the most productive forwards of Ligue 1 Jonathan David are squad members.
How to bet on 1xBet
So you want to join 1xBet, one of the most popular betting sites in India? we will show you a step-by-step process of how to join 1xBet, how to deposit money, how to place bets and much more. After reading this article, you should be fully ready to join this popular betting site.
1xBet is fast becoming the most popular betting site in India!
It is very easy to see why 1xBet is becoming so popular: The site most amazing features, captivating its audience with an enormous sportsbook and online casino.

How to use 1xBet in India
If you are already using 1xBet, you will be aware of the great qualities of the site, but if you aren't betting on the site yet, now may be a good time to sign up!
Read on as we take you through the process of using 1xBet. We will cover all the basics, from signing up to placing bets on the site.
STEP 1: sign up on 1XBET
The first step in the 1xbet is to sign up on the site. Registering on 1xBet is very easy.
CREATE ACCOUNT ON 1XBET AND GET BONUS
100% Up to ₹10,000
All you need to do is to click "Registration" on the home page and follow the very simple instructions. Within a few clicks, you can register and start betting on 1xBet. You can opt to register via any of the following means:
One-click registration
When you select the one-click registration method, all you need to do is to select your preferred currency (Indian Rupee in our case) and click "Register". When you do this, 1xBet will instantly generate your unique username and your password. Make sure you store this information properly.
Phone number registration
To sign up on 1xBet via your phone number, enter your number in the space provided and click "Send SMS". The bookmaker will send you a confirmation code via SMS. Enter this code in the box tagged "Confirmation Code" and click "Confirm".
Don't forget to select your currency of choice (by default, this is set at Indian Rupee for Indian players), and enter your promo code if you have one. The option to enter a promo code is available on all registration methods.
Email registration
Email registration on 1xBet requires a bit more information than the methods discussed. Here, you have to supply your names, password, number, and of course, email address. Make sure you confirm that your preferred currency is Indian Rupee before clicking "Register".
Important: Although signing up through one-click registration or email registration is faster and easier, we recommend that you sign up using your phone number, as it gives your account more security, in case you forget your password, username, et cetera.
STEP 2: DEPOSIT MONEY ON 1XBET
HOW TO DEPOSIT MONEY ON 1XBET
After signing up on 1xBet, the next step is to deposit some money into your 1xBet account so that you can start betting.
To deposit money into 1xBet, log in with your new details and click "Deposit". As a new customer, you will be asked to specify whether you want a welcome bonus for sports or for the online casino when you make your first deposit.
The minimum deposit on 1xBet varies with each payment method.
Below are some of the most popular deposit options on 1xBet:
PaytmPhonePeUPIOnline Bank TransferGoogle PayVISA CardMasterCardAstroPay CardSkrillNetellerMuchBetterecoPayz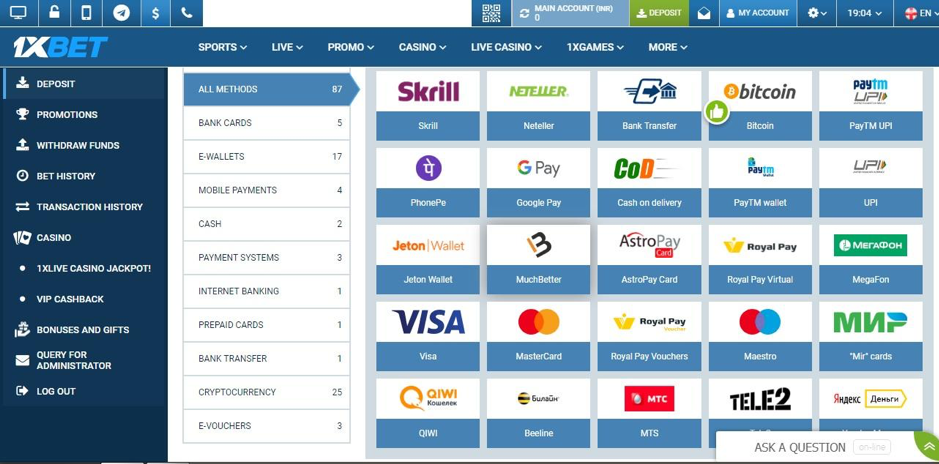 WHAT IS THE BEST WAY TO DEPOSIT ON 1XBET?
All of the above-mentioned deposit methods are good.
It's up to you to decide which one works best for you, according to the means you have at your disposal.
My recommended options for indian users : –
UPI, PhonePe, Google Pay, and PayTM are, in our opinion, the best deposit methods on 1xBet.
They each follow a very similar payment process. The main difference is the payment platform.
For instance, to deposit via PhonePe, 1xBet will ask you to enter your name, email and PhonePe number on a deposit request form. On the next screen, the bookmaker will give you the details of the 1xBet PhonePe account you are to send your deposit to.
When you do a PhonePe transfer to this account, your 1xBet account will be credited.
When depositing on 1xBet via online bank transfer, you will send the money to an intermediary account in India, and the money will then be deposited on 1xBet.
When you click bank transfer on the 1xBet deposit page, a request form will pop up. Enter your bank details and click "Confirm". On the next screen, you will see details of the 1xBet intermediary bank account.
Once you transfer the funds into this bank account, 1xBet will move the money into your betting account. While this third-party transfer method may appear somewhat clumsy, we found it to be very reliable and unfailing.
If you have an active AstroPay card, then you will have no problems funding your 1xBet account.
To pay with an AstroPay card on 1xBet, enter your card number, code, and date of expiration, along with the amount you want to deposit into the appropriate spaces.
Your money will appear in your 1xBet account instantly after approving the transaction.
Payment into 1xBet via Skrill is slightly more tasking than Neteller (only slightly!). This is partly because you will have to log into your Skrill account to complete the transaction.
With the Skrill deposit method, you will be asked to enter the amount you want to deposit and choose the method of payment.
If you have money in your Skrill wallet, you can opt to fund your account from your wallet, but if not, you can make your deposits via other methods like a VISA card, with Skrill serving as the intermediary payment gateway.
STEP 3: RECEIVE A WELCOME BONUS
1xBet Welcome Bonus
100% Up to ₹10,000
There is a great big welcome bonus waiting for all new players from India who join 1xBet!
NOTE :- USE PROMO CODE FOR BONUS : Add500
Here is how to get your hands on the bonus:
Click the green "Claim" button below.Create a new account on 1xBet. When creating your account, select either Sports Bonus or Casino Bonus.Next up, make a deposit on 1xBet using one of the many convenient deposit options.When your deposit has been made, 1xBet will credit your account with your welcome bonus!
CLAIM BONUS
The following terms and conditions apply to this bonus:
Only new players are eligible for this exclusive welcome bonus.You must deposit at least Rs. 75 to be eligible for this bonus.Your welcome bonus must be wagered 5 times before you can withdraw it.
STEP 4: START PLACING BETS ON 1XBET
Now that you have a funded 1xBet account, you are ready to start placing your bets on this great betting site!
How to place bets on 1xBet
Placing bets on 1xBet is very easy. Once you log into your account, you will be able to access the 1xBet sportsbook.
If you are browsing from a PC, you will see the list of available sports on the left-hand side of the home page. If you are on a mobile device, the sports are listed in a top horizontal menu.
The next thing to do is to select the sport you want to bet on and navigate the specific event you are after.
If the match between INDIA and NEW ZEALAND is available.
Place your bet by clicking on the odds that match your prediction. You will be able to see your predictions in a bet slip usually at the right of your screen. You can bet on as many matches as possible.
When you finish selecting your bets, enter your stake in the space provided on the bet slip and click "Place a bet" to confirm your bet. You can always view the state of all your bets by going to "Bet History" under my accounts.
HOW TO WITHDRAW MONEY ON 1XBET
To withdraw money from 1xBet, you go to the "My Account" section and click on "Withdraw Funds".
Now, you will simply type in the amount you wish to withdraw. Then click on the withdrawal method you wish to use, and complete the transaction.
Note that you can only withdraw funds using the same payment details that were used for depositing money into your account.
Join 1xBet: Start Betting Today
Now that you know everything there is to know about 1xBet and how to use this site in India, it's time to get started!
Click below to claim the awesome welcome bonus from 1xBet and get started betting now.